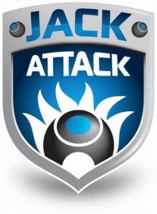 OPEN DAY EVENT POSTPONED..
Bairnsdale Golf & Bowls wishes to advise that the scheduled Bowls Open day (this Wednesday Jan 8th) featuring Karen Murphy and Steve Glasson has been postponed. The club made the decision and advised Karen and Steve today and we are hopeful of rescheduling the event when circumstances in the region improve. Furthermore, we appreciate the understanding and hope this hasn't inconvenienced too many plans. When we have a revised date, we will re advertise
BUT, Jack Attack will still proceed as planned.
Whats Jack Attack?
Season Starts Wednesday February 5th 2020 (8 weeks)
Jack Attack is a fun and fast-paced format from the traditional form of lawn bowls, aimed to encourage participation with non-bowling members of the community.
Jack Attack is super easy to play!
It is a modified version from the traditional form of lawn bowls, with three players per team who each deliver their two bowls within an end, aiming to get as close as possible to the jack.
The delivery of all six bowls completes an end, where teams then change direction of play and re-position the jack.
Teams complete two sets of five ends to determine a winner, and should the sets be even, a sudden-death tie-break will be played.
It's all over in 60 minutes!